Meet Our Team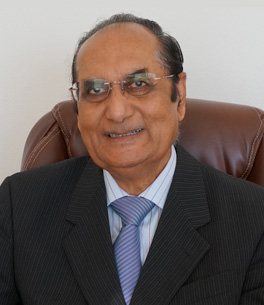 Ramesh R. Shah, M.D., F.I.C.S., F.A.C.S.
Eye Surgeon
Diplomate, American Board of Ophthalmology
Sub-Specialty Retina & Vitreous
Dr. Ramesh R. Shah graduated from Grant Medical College and Sir J.J. Teaching Hospital in Bombay, India. Dr. Shah obtained residency and fellowship training from Bombay, London (England) and Farmington (Connecticut, USA). He practiced at Nairobi, Kenya, for 10 years before starting practice in Joplin, Missouri, in 1983.
Dr. Shah had the opportunity to work with leading intraocular lens implant surgeons and leading retinal surgeons during his training in India, England and the United States. He is a member of the American Academy of Ophthalmology, a fellow of the American College of Surgeons, a fellow of the International College of Surgeons, the All India Ophthalmic Society, he is a Paul Harris Fellow and also has published and presented many articles in ophthalmology journals in the U.S. and overseas.
Dr. Shah regularly undertakes mission trips to India to perform intraocular lens implant surgeries for the needy people. He is an attending physician at Mercy Hospital and Freeman Hospital in Joplin, 32nd Street Surgery Center in Joplin, Four States Surgery Center in Joplin, and McCune Brooks Hospital in Carthage.
Dr. Shah has lived in Joplin for more than 30 years with his wife, who is an OB/GYN. He has a son, a Neuroradiologist, and a daughter, an ophthalmologist who recently joined his practice.
---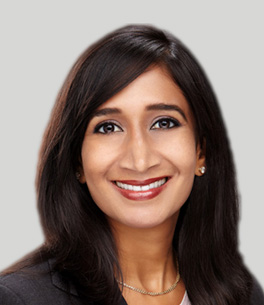 Heeral R. Shah, M.D.
Eye Surgeon
Sub-Specialty Retina and Vitreous
Heeral R. Shah, MD, joined the practice in August 2014.  After graduating from the University of Missouri-Kansas City School of Medicine in 2005, she completed an internship at MacNeal Hospital, an affiliate of the University of Chicago in 2006.  She then completed her Ophthalmology residency training at the Baylor College of Medicine in Houston, Texas in 2009.  She further went on to complete a medical retina fellowship the New England Eye Center/ Tufts Medical Center in Boston, Massachusetts in 2010.
She first joined the practice in 2010 for one year, and then followed her husband to Tampa, Florida while he completed his training for three years.   In Tampa, she worked in training ophthalmology residents from the University of South Florida at the James A. Haley Veterans Affairs Hospital. After her husband completed his training, they recently moved back to Joplin, Missouri where she re-joined the practice in August 2014.
Dr. Shah specializes in the care of retinal diseases, including age-related macular degeneration, vascular disorders, uveitis, hereditary diseases, retinopathy of prematurity, and retinal tears. She is also trained in cataract surgery.
Dr. Shah has earned various honors and awards including an induction into Alpha Omega Alpha in 2003.   She is a member of the American Academy of Ophthalmology and American Society of Retina Specialists.   She is also a co-founder of the International Society for the Advancement of Medical Retina. She has published multiple papers, including basic science research on retinoblastoma cell lines, retinal imaging, and macular degeneration. She was also involved in the writing of the retinal chapters of Optical Coherence Tomography of Ocular Diseases, 3rd edition.
She lives in Joplin with her husband and son. In her free time, she enjoys playing tennis, cooking and traveling. She is very excited to have returned to Joplin and have joined her father's practice.